During SOAR you will work with an advisor to sign up for your first semester courses.
In your SOAR Advising Group, you'll work with professional advisors, the staff and faculty dedicated to working with new students to plan academic programs and experiences, as well as peer advisors who are current UW-Madison undergraduates trained to work with new students at SOAR.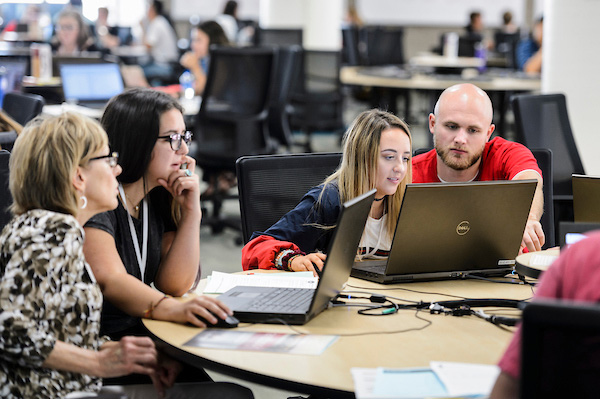 How to Prepare for SOAR Advising
Tests and Transcripts
During SOAR, you will meet one-on-one with an academic advisor to plan out your first semester. You will review your placement test scores with your advisor and discuss any college credit you may have earned by taking tests and/or completing college-level courses in high school or at a previously attended college.
We recommend having any test scores, results, transcripts, or grade reports available during your one-on-one advising meeting. If that information is not yet available, your advisor will help you figure out a contingency plan for the future.
Ask Questions
It's very common for students to experience SOAR with mixed emotions. You might feel exhilarated, proud, anxious, confused, happy, nervous, or you might feel all of these emotions at the same time! No matter how you're feeling, advisors are here to guide you, support you, and connect you to resources, so don't hesitate to ask questions.
But I haven't decided on a major yet!
It's perfectly normal, and common, to arrive at SOAR without having decided on a major, particularly for new freshmen. Maybe you have no idea where to start, or are struggling between multiple interests. Perhaps you've narrowed it down to a school or college but want to take some time to explore your options.
Advisors at UW Madison are willing and able to help you no matter where you are in the decision-making process.