You've probably heard many ideas about how long it should take to graduate. Perhaps you've heard that graduating in four years is the standard. Or maybe you've heard something along the lines of "No one graduates in four years anymore."
Below is more information about the benefits, obstacles, and myths surrounding different graduation plans, and how your advisor can support your graduation timeline goals.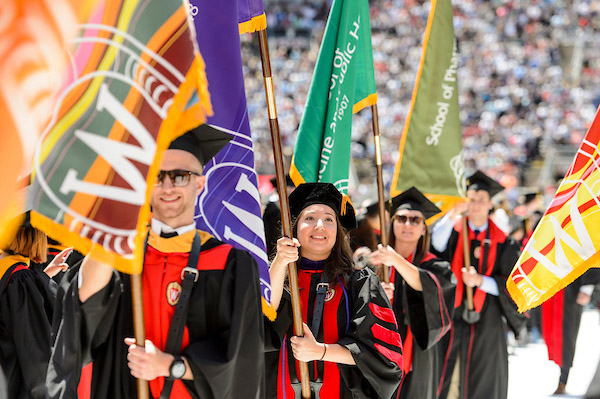 Staying on Track for Graduation
Talk to your advisor about creating your graduation plan, and consider the following tips:
Make sure AP/CLEP and retro credits transfer
Plan to take approximately 15 credits a semester
Consider taking a winter or summer course
Know how many electives your major/
degree allows you to take
Understand your DARS report
Be flexible with your class schedule
Seek academic support
See your academic advisor regularly!
This is an accordion element with a series of buttons that open and close related content panels.
What is a graduation timeline or plan?
A graduation plan is usually a document (on paper or online) that you create with your academic advisor that details the steps you will take to graduate according to your personal timeline and goals.
Your advisor can help you review your major or degree requirements and outline your future semester schedules.
What are the benefits to graduating in 4 years or less?
There are many factors to consider when you're planning your graduation timeline, and for many students, the deciding factor comes down to money.
If you're largely relying on student loans to pay for your education, it's important to be aware of how staying longer than necessary will affect you financially.
Here are some reasons a student might be interested in graduating in four years or less:
You want to enter the workforce as early as possible to begin earning a salary and paying back loans.
You want to avoid paying for an additional semester that you don't need, including the additional expenses for book, supplies, room & board, travel, and personal expenses.
You want to accrue less interest on your existing student loans. While the government pays the interest on your subsidized student loans, your unsubsidized student loans are accruing interest even while you're in school.
Can I graduate in 3 years?
In some cases graduating in 3 years is possible and makes sense for your overall goals. Meet with your advisor to discuss the timeline that works best for you.
What factors can delay my graduation plan?
Sticking to any plan is not always easy, and there can be obstacles along the way. The good news is that all you need to do is ask for help. There are resources everywhere!
Talk to your advisor about how to develop a plan for challenges like:
• Dropping, failing, or withdrawing from a course
• Working part-time or full-time
• Feeling unmotivated or "burnt out"
• Taking more electives than your major/degree allows
• Declaring a major past your junior year
• Getting married or starting a family
What if I want or need to take longer than 4 years to graduate?
While being aware of the financial implications of taking longer than the standard 4 years, it's important to remember it's not a magic formula. There are also reasons why you may not be able to, or choose not to have a 4-year plan.
Maybe you're a part-time student who also has a part-time job. Or maybe you're in a major or degree where on time graduation is longer than four years. Transfer students, students who need to re-take or take classes to prepare for applying to grad school, and students who didn't have the opportunity to take college-level courses in high school may also find it more challenging to graduate in four years.
Graduation plans can look different depending on factors like finances, academic and career goals, and what you want to gain from the experience. The important thing to remember is your advisor is here to help you consider all the factors that go into creating a graduation plan that works best for you.
Creating a Graduation Plan
Review Your Major Requirements: Learn about academic requirements for majors and certificates in the Academic Guide.
Meet with Your Academic Advisor: Meet with your academic advisor for your major(s) or certificate(s) once a semester to check your academic progress and create Graduation Plan.
Use the Degree Planner in the Course Guide & Enroll App: The Course Guide & Enroll App has a built in tool to help you plan out your Graduation Plan (available by Summer 2019). More capabilities will be available in the tool by Fall 2019.
Declare Your Major: Plan to declare your major by the end of your third or fourth semester. Learn more about Declaring Your Major.
Use Your Resources: Remember to utilize your academic resources, including free UW tutoring and learning support services and faculty office hours!
Apply for Graduation: Plan to meet with your advisor at least a year before you plan to graduate to confirm you have completed or are on track to complete all your degree requirement. See Apply for Graduation.